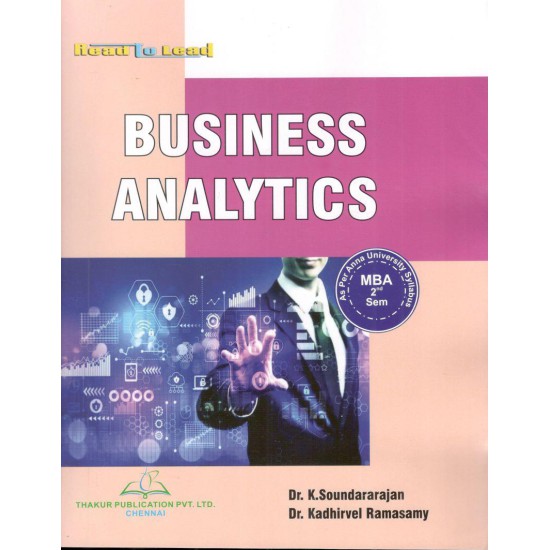 -5 %
Business Analytics
Syllabus
BA4206: Business Analytics
Unit I: Introduction to Business Analytics (BA) 9
Business Analytics - Terminologies, Process, Importance, Relationship with Organisational Decision Making, BA for Competitive Advantage.
Unit II: Managing Resources for Business Analytics 9
Managing BA Personnel, Data and Technology. Organisational Structures Aligning BA. Managing Information Policy, Data Quality and Change in BA.
Unit III: Descriptive Analytics 9
Introduction to Descriptive analytics - Visualising and Exploring Data - Descriptive Statistics Sampling and Estimation - Probability Distribution for Descriptive Analytics - Analysis of Descriptive Analytics
Unit IV: Predictive Analytics 9
Introduction to Predictive Analytics - Logic and Data Driven Models - Predictive Analysis Modeling and Procedure - Data Mining for Predictive Analytics. Analysis of Predictive Analytics
Unit V: Prescriptive Analytics 9
Introduction to Prescriptive Analytics - Prescriptive Modelling - Non Linear Optimisation - Demonstrating Business Performance Improvement.
Price in reward points: 200
Stock:

In Stock

Publisher: Thakur Publishers
Author:

Dr. K. Soundararajan , Dr. Kadhirvel Ramasamy

ISBN:

9789354804472